It's been a little while since I blogged - and revisiting here, I think my page is definitely in need a of face-lift. Humm, I'm going to have a think about that and surprise you one day!
The past few weeks have been rather busy - with Alex being on holiday and card making. I have just been in the mood to make things, and so have indulged myself when ever possible. I have quite a stock of cards now, so I really am going to have to consider selling them - I haven't had the nerve to before now to be honest! To date I have only 'sold' commissioned cards, not the ones I make 'just because' or for my teams - but unsurprisingly, storage is becoming an issue!
The example below is a commissioned card - my friend wanted a large uncomplicated card that a large group of under 5's could sign for their nursery school. I went completely digital for the design, with no 'real' embellishments at all (so no-one could be tempted to pick things off!).
Kate Hadfield's
alpha was bright, happy and perfect for the job:
Kate is heavily involved in a site called
Gallery Standouts
- which does exactly what it implies, and scouts lots (& lots!) of galleries to highlight pieces of work, so if you are looking for inspiration it's another place to checkout ...having said all that, Kate chose this piece of work by me at the end of last month!
I am so pleased to have been selected, as I am quite a fan of Kate's work, so its a lovely compliment that she selected my stuff :)
As you can see from the picture, all the items are designed for a young child's party - if you are, like me, not the most brilliant cake decorator, then do think about making your own cake frill as they are so simple to make: Measure your cake tin for the estimated depth of your finished cake, then for a cake of diameter 7 inches or more, design and print three A4 copies of your frill onto thin card. Stick it together with clear tape, and trim as necessary. If its going to be around your cake for any length of time I would line it with grease proof paper. I do all my 'designing' in Photoshop, so I create a file/ template of the correct depth to match my cake, and then print it three times. You can corrugate the frill, add a ribbon - anything you like :)
Here are a couple more cards etc that I have made recently:
Finally, some

HUGE

news! You may have gathered how big a fan I am of the family of designers at: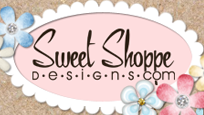 Recently, the Shoppe had a creative team call, and I was awarded the 'hybrid' spot! ...which means I get to play with lots and lots of very pretty digital things, and make cards 'n stuff!

Big, enormous wow or what!?!?!

Actually, I'm rather intimidated by the company I'm now in - seriously, the other Hybrid Babes (yes, that really is what we get called :) ) produce quite simply incredible work. Our joint gallery is
here
- more ideas for you to try!
I'll leave it there for now - we're off to the park in about 10 minutes!
I will return soon (-ish!)
Perfect Pair: Made with papers and elements from
Tutti Frutti
by Zoe Pearn
EIEIO birthday bits n bobs: Made using predominantly Heather Roselli's
EIEIO
kit!
Engagement Party ideas: Made using Armina Design's 'Young Love Sweet Love' kit which is one of the kits available in the August issue of The Fix from
Digiscrap Addicts
, plus a bag template from
Kelleigh Ratzlaff
, and the fab new font DJB Get Your Fix by Darcy Baldwin, which is also in The Fix.
Dinomite: Made using papers and alpha from
Tough Guy
by Dani Mogstad and
Ellie Lash's
fab dino brush (I love this little dinosaur!)
All buttons, ribbons and blooms are from
Poppicrafts
of course
There are a few Doodlebug gems, some craft wire, DMC thread, raffia, a laminator pouch for the EIEIO table mat, lots of ink, chalk, adhesives, card, paper, and Ranger Stickles glitter glue too!